Every spring, Japan celebrates the sakura season in every possible way. The stores are filled with all kinds of cherry blossom themed and flavored items. This article introduces you to the taste of spring through the cherry blossom treats, souvenirs, and self-care goods to check out in 2020.
Celebrate the Cherry Blossom Season with All Senses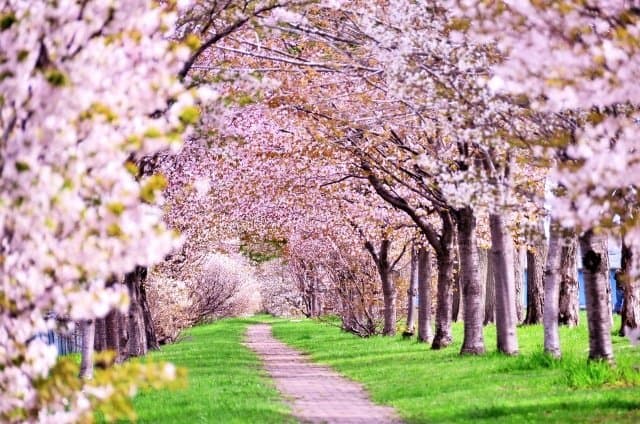 Every year before and during the cherry blossom season, Japanese stores are filled with items that in some shape or form represent, or even contain, the famous pink flower. While they are the most popular, sakura goods are not limited to food items. Nowadays, you can enjoy the scent and taste of cherry blossoms from your morning shower to brushing your teeth, to a moisturizing sheet mask before going to bed at night.
In this article, we introduce twenty cherry blossom related items to try in 2020.
1. Traditional Sakura Mochi
From Sakuramochi In Kansai And Kanto – Regional Differences
Sakura mochi is a pink glutinous rice cake filled with sweetened red bean paste (anko) wrapped in a pickled, edible cherry blossom leaf. It is the most traditional spring dessert in Japan.
From Sakuramochi In Kansai And Kanto – Regional Differences
Sakura mochi has regional differences in appearance and mouthfeel, but the taste is always unmistakable sweet and slightly salty. The rice cake and the bean paste contribute to the slightly sweet aspect and salty pickled flavor from the sakura leaf lends its unique flavor. Some people like to remove the leaf before eating but for a stronger flavor experience, it is highly recommended to try the mochi together with the leaf. The sakura leaf also adds an interesting texture.
Read also
2. Sakura Leaf Flavored Anko
Sakura Anko Toast (Picture courtesy of BREAD&COFFEE LeBRESSO)
Sakura flavored anko usually consists of pink colored sweetened white bean paste infused with pickled sakura leaves. It can be bought in selected gourmet stores in small bags.
The flavor very closely resembles the sakura mochi mentioned above. The great aspect about the sakura anko is that it lasts a long time as long as the package is unopened. You can even take it home as a souvenir.
Naturally, sakura anko can be used alongside mochi but if you don't have any available, there are many other ways to enjoy it. Anko on buttered toast, for example, is popular breakfast food in Nagoya. Ice cream with anko is another popular way to use it. There are no rules on how to use anko––just be creative.
3. Annual Starbucks Japan Sakura Goods and Beverages
Picture courtesy of Starbucks Japan
Starbucks Japan is always heavily involved in the cherry blossom season. They cover everything from a variety of seasonal drinks to huge selection of merchandise, to a spring limited beverage available at convenience stores.
Picture courtesy of Starbucks Japan
The spring goods usually sell out the fastest of the Starbucks annual goods. They are not only cute to look at but they also represent Japan's iconic spring flower in many varieties. This merchandise makes popular souvenirs as well as collector's items.
4. Seasonal Sakura Afro Pikachu Goods at the Pokémon Cafe
Picture courtesy of Pokémon Cafe
The Pokémon Cafe in Tokyo and Osaka also offers seasonal goods. They might be the only ones on the list not scented or flavored like cherry blossoms, but they are too adorable not to mention them here.
The items for 2020 include Sakura Afro Pikachu Fruit Pancakes and a Sakura Afro Pikachu Latte. Pikachu looks so adorable in his pink cherry tree afro that it immediately puts you in the spring mood.
5. Mister Donut Sakura Doughnuts
Picture courtesy of Mister Donut
Mister Donut offers a variety of different sakura flavored doughnuts throughout the cherry blossom season. For 2020, three of these doughnuts are Sakura Mochi Doughnuts, which offer the distinctive pickled sakura leaf flavor, and the other three are Sakura French Cruller, made with real powdered cherry blossoms.
Picture courtesy of Mister Donut
The Sakura Mochi Doughnut is available in cherry blossom flavor, roasted soybean powder and plain with red bean paste. For the Sakura French Cruller, you can choose between cherry blossom flavor, cherry blossom flavored jelly and whipped cream and red bean paste and whipped cream.
6. Pablo Mini Sakura Mochi Cheese Tart
Picture courtesy of Pablo
Sakura mochi flavored sweets appear to be the trend for 2020. Pablo Cheese Tarts offer limited-edition mini cheese tarts topped with sakura mochi flavored white bean anko. The combination of the flaky crust, creamy cheesecake, and rich sakura flavored sweetened white bean paste offers a burst of flavor and texture.
7. Sakura Treats at IKEA Japan
Picture courtesy of IKEA Japan
IKEA Japan is joining the seasonal cherry blossom offerings in 2020. The line-up includes a hot dog in a seasonal pink bun, and a dessert hot dog with whipped cream and zunda (sweetened green soybean paste) in the same pink bun. There is also a cherry blossom flavored soft serve sundae.
8. Sakura Ramen at Kipposhi
Picture courtesy of KIPPOSHI Japan
KIPPOSHI in Tokyo is most famous for its blue ramen. However, they have made it a recent habit to release a monthly special, and the one for the sakura season is Cherry Blossom Chicken Ramen. It is made with a base of Kipposhi's delicious chicken ramen, cherry liqueur, and bonito flakes.
9. Sakura Flavored Beers
Picture courtesy of Sankt Gallen
Two of Japan's local breweries offer beers infused with real cherry blossoms this spring. Sankt Gallen is a brewery from Kanagawa which is famous for their unique flavors. Their beer is usually very rich and slightly bitter in flavor, so it might be a more acquired taste. However, the Sankt Gallen Sakura Beer is infused with handpicked pickled cherry blossoms and offers a very pronounced sakura mochi flavor.
If you prefer a milder flavor, try the Sakura Ale by the Abashiri Brewery from Hokkaido. This beer has a lighter overall flavor and is easier to drink but offers a similar sakura mochi scent and taste found in the Sankt Gallen Sakura Beer mentioned above.
10. Lipton Sakura Mochi Flavored Teas
Picture courtesy of Lipton Japan
Lipton Japan releases seasonal milk teas all year round. Their sakura version is usually a cherry blossom latte. For 2020, the limited-edition Lipton Sakura Tea Latte is sakura mochi flavored.
Picture courtesy of Lipton Japan
Recently, Lipton has also released Sakura Tea Bags. These are sakura mochi flavored as well. They are easy to stock up on and enjoy the flavor of spring all year round. As of now, they appear to not be limited edition.
11. MONIN Sakura Flavored Syrup
Picture courtesy of MONIN
MONIN is a leading flavored syrup maker in the world. Their sakura syrup is a Japan-limited flavor available year-round. It is especially popular during the spring season and is often used in seasonal cocktails. It is available in selected specialty shops carrying MONIN syrups.
12. Tokyo Banana Sakura Flavor
Picture courtesy of Tokyo Banana
Tokyo Banana is Tokyo's iconic snackable souvenir. It consists of a sponge cake filled with banana-flavored custard cream. The limited-edition Tokyo Banana Sakura is filled with cherry blossom flavored custard and even decorated with the pink flowers.
13. Two Different Sakura KitKats
Picture courtesy of KitKat Japan
In 2020, KitKat Japan offers two different sakura flavors. They are one of the many brands this year offering a sakura mochi flavor. It has cherry blossom leaf extract in the white chocolate coating and red bean filling between the wafers.
For people who enjoy the flavor of sake, Nestlé also offers the returning KitKat Sakura Japanese Sake. It contains real powdered sake and an intense cherry blossom scent and flavor.
14. Pocky Sakura Shitate and Sakura Matcha
Pocky are crunchy biscuit sticks covered in chocolate. The new line Pocky From JAPAN focuses on traditional Japanese flavors. The line offers a limited-edition Sakura Shitate flavor. It consists of a pretzel stick made with browned butter, sakura-flavored white chocolate, and salt and sugar topping to enhance the depth of flavor.
Picture courtesy of Pocky Japan
Pocky Sakura Matcha is a returning seasonal flavor. The pretzel stick is cherry blossom flavored and covered in matcha chocolate.
15. Blanchul Mini Chocolate Sakura
Picture courtesy of BOURBON
Blanchul Mini Chocolate is a popular chocolate-filled cookie snack in Japan. The cherry blossom flavor consists of sakura mochi flavored chocolate, sandwiched between two cookies of the same flavor. The crunchy cookies and the creamy chocolate offer a satisfying texture combination.
16. Yawamochi Sakura Mochi Ice Cream
Picture courtesy of Imuraya
Yawamochi is a type of soft rice cake and also the name of this unique ice cream by the company Imuraya. The seasonal spring flavor consists of sakura mochi flavored ice cream topped with anko and five sakura flavored mini rice cakes. It is almost like eating the ice cream version of the popular dessert.
17. Sakura Flavored Beath Mints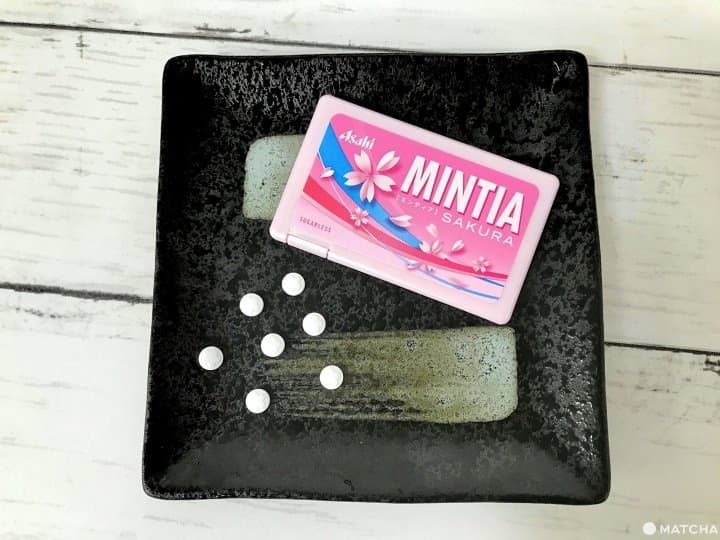 MINTIA is a popular Japanese breath mint brand that comes in many different flavors. The seasonal MINTIA Sakura has a minty-flowery taste. The small tablets each come with a small cherry blossom imprinted on them which is a cute surprise when you are offering them to someone.
18. Sakura Flavored Toothpaste
The Ora2 Fresh Sakura Mint Toothpaste tastes a lot like the breath mints mentioned above. It is a very surprising flavor profile for toothpaste and a must-have for everyone crazy about the taste of cherry blossom.
19. Sakura & Green Tea Shower Gel and Face Wash
Picture courtesy of KOSE
KOSE is one of Japan's more popular skincare brands. For 2020, they have married two of Japan's most popular scents for their spring limited Sakura&Green Tea Shower Geland Face Wash. The scent is described as a rich salted cherry leaf and green tea. It can be found at selected drugstores throughout Japan.
20. Sakura-Infused Face Masks
For spring, some of the most popular sheet mask brands offer cherry blossom extract infused versions. Most of them are infused with real cherry blossom extract. Depending on the brand, they are available as multi or single pack of sheet masks.
The multi-packs are the best value for money, the cheapest one retails for only about 1,200 yen for fifty sheets. However, if you want to share these masks as a souvenir or are just an occasional user, the single packaged cherry blossom infused masks are the better choice.
Try Twenty Sakura Themed Items in 2020
Every year Japan gets excited about the cherry blossom season as soon as a new year starts and the first cherry blossom themed items are introduced to the market. There is an overall theme each year but seasonal favorites from previous years often make a return.
Written by Chiara Mischke (Crystal Japan) for MATCHA – Japan Travel Web Magazine
Original Article Link: https://matcha-jp.com/en/9520